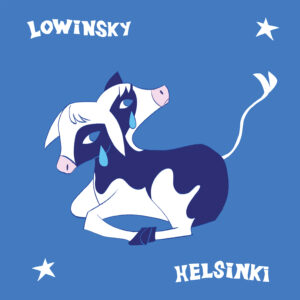 A distanza di otto anni dalla sua ultima release, torna Drew McConnell con il suo progetto solista Helsinki. Il bassista e coautore dei Babyshambles pubblica un nuovo singolo intitolato "Homo Nymph", all'interno di un mini-EP split con gli italiani Lowinsky. Il doppio singolo, pubblicato in vinile 7'' a tiratura limitata dalla milanese Rocketman Records vede sul lato A il pezzo "Doppio Gioco" della band bergamasca e sul lato B quello di Helsinki, appunto.
Il vinile a tiratura limitata è arricchito dall'artwork di copertina di Holdenaccio, fumettista e illustratore, noto per aver recentemente pubblicato una biografia di Elliott Smith per Bao Publishing.
Eight years after his last release, Drew McConnell returns with his solo project Helsinki. The bassist and co-author of Babyshambles releases a new single entitled "Homo Nymph", as part of a split mini-EP with Italians Lowinsky. The double single, published on 7" vinyl in a limited edition by the Milanese Rocketman Records, features the song "Doppio Gioco" by the Bergamo band on the A side and the Helsinki band on the B side.