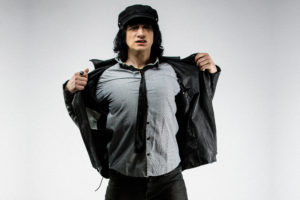 Ecco la seconda bombetta d'autunno: si aggiunge alla famiglia Rocketman il grandissimo Lester Greenowski, veterano di mille concerti punk rock in giro per l'Europa e autore prolifico della scena italiana.
Carpenter's Cult è l'ultimo disco di Lester Greenowski in uscita per Rocketman Records a dicenbre 2022, 13 brani ispirati a 13 titoli dall' opera del cineasta americano John Carpenter.
Nato nell' ambito di una serie di uscite che festeggiano i suoi primi vent'anni da frontman, Lester declina diverse influenze parte integrante della propria formazione ma mai totalmente esplorate nel proprio sound.
Accanto alla consueta formula che mescola punk rock newyorchese fine anni settanta (Ramones, Heartbreakers, Dictators) ed hard rock dello stesso periodo (Ac/Dc, Kiss, Cheap Trick), sia per similitudine che per antitesi rispetto alle atmosfere dei lungometraggi a cui sono ispirati i brani, fanno capolino Misfits, Lords Of The New Church, Fuzztones, The Beat, The Plimsouls, 20/20 etc.