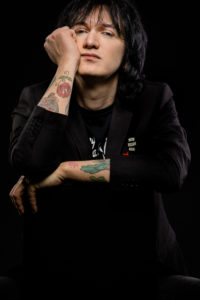 Lester scrive canzoni e sale sul palco da metà degli anni novanta, ad oggi ha suonato più di mille concerti in tutta Europa registrando oltre una dozzina di album.
Ugualmente influenzato dal punk rock newyorkese degli anni settanta (Ramones, Heartbreakers, Dictators) che dall' hard rock dello stesso decennio (AC/DC, Kiss, Cheap Trick) Lester ha unito le sue due passioni per creare un sound inedito e personale.
Accanto alla sua band solista ha militato in formazioni internazionali tra cui The Crybabys (Regno Unito), Honest John Plain (Regno Unito), Brandy Row (Regno Unito) e Brijitte West (U.S.A.) insieme a membri ed ex membri di Ian Hunter, The Boys, UK Subs, Vibrators, Capt. Sensible, Nikki Sudden, Dogs D'Amour, Lurkers, N.Y. Loose ecc.
Negl' anni ha condiviso il palco con Offspring, Backyard Babies, Michael Monroe, Marky Ramone, Richie Ramone, Faster Pussycat, L.A. Guns, Vibrators, The Dickies, Dictators, Slaughter And The Dogs, Supersuckers, Dogs D'Amour, Enuff Z'Nuff, The Boys, Cockney Rejects, Paul Collins Beat, Bruce Kulick, John Corabi, Black Halos, Angelic Upstarts, Koffin Kats e tanti, tanti, tantissimi altri.
Nel 2022 festeggia i suoi primi 20 anni da frontman, durante i quali non ha mai smesso di registrare o di andare in tournée. Apprezzato da critica e nicchia rimane una presenza costante nell' underground europeo, solida conferma per chi già lo conosce, interessante scoperta per chi lo incontra per la prima volta.
Carpenter's Cult è l'ultimo disco di Lester Greenowski in uscita a dicembre 2022 per Rocketman Records, 13 brani ispirati a 13 titoli dall' opera del cineasta americano John Carpenter.
Discografia Essenziale
Lester Greenowski
2014 – It's Nothing Serious Just Life (Area Pirata Records) Lp
2016 – The Italian Job (Area Pirata Records) 7 " Split Ep with The Crybabys
2017 – Lester Greenowski / The Empire Strikes (Area Pirata Records) 7 " Split Ep with The Empire Strikes
2019 – Out Of Tune, Out Of Key (Tornado Ride Records) Lp
2022 – See You At Practice – Live At The Box (Tornado Ride Records) Digital Release
2022 – Kover All Over (Tornado Ride Records) Digital Release
Honest John Plain And The Landslide Ladies
2011 – Honest Alive (Tornado Ride Records) Lp
Vocal Remover Requested
2018 – "And The Beetle Trumpets…" (Action Records) Lp
Lester And The Landslide Ladies
2007 – Best Friends Glitter Can Buy (Secondo Avvento) Lp
2007 – Change, Derange, Rearrange (Secondo Avvento) Lp
2007 – Dysfunctionally Yours … Live (Secondo Avvento) Lp
2010 – Estranged In Ladyland (Tornado Ride Records) Lp
2011 – Frantic Tales For The Fast Living (Tornado Ride Records) Split Lp with Kevin K
2012 – Great Songs Through Poor Performances (Tornado Ride Records) Lp
2012 – It's All About The Result (Tornado Ride Records) Lp
Landslide Ladies
2003 – Loud, Lousy & Loose! (Self production) Ep
2004 – Six Strings & Cigarettes (Self production) Ep
2005 – Anyway; Glitter from the Gutter (Secondo Avvento) Ep